.
Macrame Hat Hanger (Pre-Order: 2 Weeks)
Regular price
Sale price
€48,95
Unit price
per
Sale
Sold out
View full details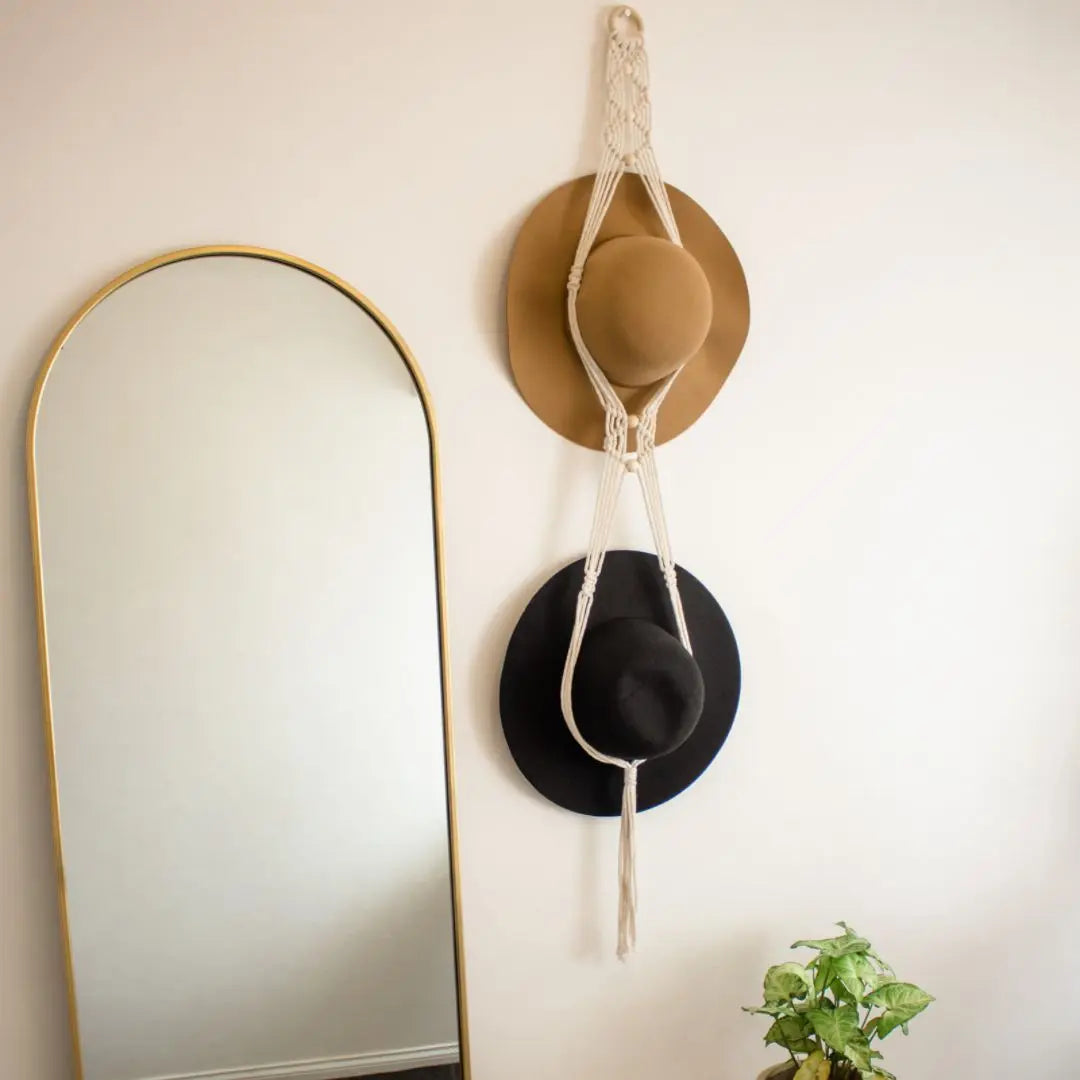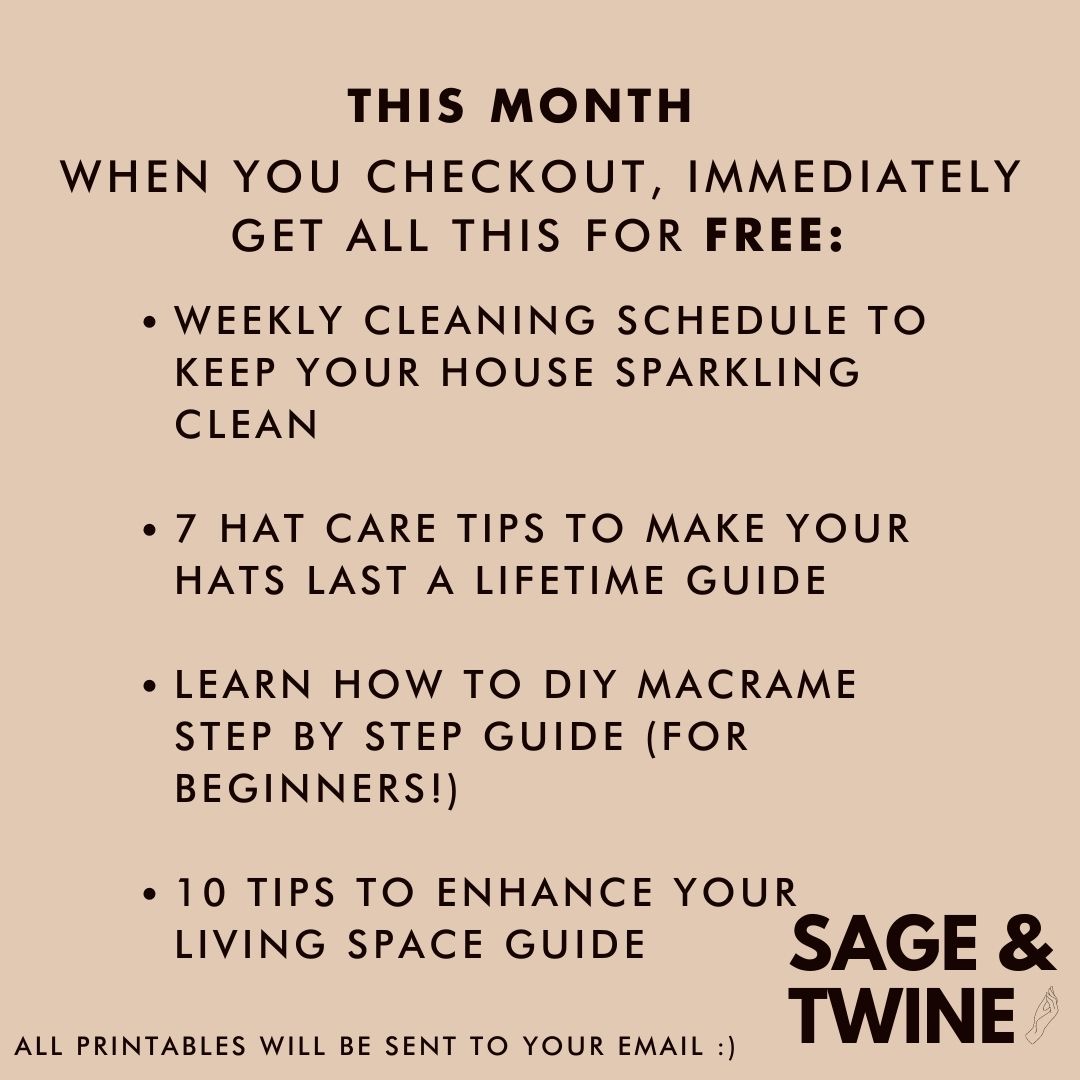 Macrame Hat Hangers
Macrame Hat Hangers by Sage and Twine: Where Elegance Meets Functionality
Welcome to our Sage and Twine Collection page, featuring our signature Macrame Hat Hangers! Our handcrafted hat hangers are the perfect addition to any home or space, providing an eco-friendly solution to hat storage. Made with sustainable wood and cotton, our Macrame Hat Hangers are not only functional but also environmentally conscious.
Each hanger is designed to fit two hats, allowing you to keep your favorite hats organized and easily accessible. The intricate macrame detailing adds a touch of bohemian charm, making these hangers a stylish addition to any room.
At Sage and Twine, we prioritize sustainability and ethical production practices, and these Macrame Hat Hangers are a true testament to our commitment to the environment. With their natural materials and beautiful design, these hat hangers are not only a practical storage solution but also a stunning decor piece.
Upgrade your hat organization game with our Sage and Twine Macrame Hat Hangers, and feel good about your purchase knowing that you're supporting a brand that cares about the planet.
Revamp your space with Sage and Twine's Macrame Hat Hangers, a luxurious fusion of beauty and practicality. Designed to not just hold your hats but to do it with style, these meticulously crafted hangers turn any wall into a fashion-forward showcase.
Expert Craftsmanship that Speaks Volumes
Each Macrame Hat Hanger is a masterpiece in its own right, handcrafted by artisans dedicated to preserving the ancient art of macrame. The intricate weave patterns and knotting techniques bring out a level of detail that makes each piece unique.
Planet-Friendly Luxury
We prioritize sustainability without compromising on luxury. Crafted with 100% eco-friendly, biodegradable materials, our hat hangers make a guilt-free addition to your chic lifestyle. Experience the pleasure of conscious consumerism with every purchase.
Fits Any Decor Style
Our Macrame Hat Hangers are designed to be as versatile as you are. Whether you have a penchant for vintage decor or a love for modern minimalism, these hat hangers seamlessly fit into any decor theme, thanks to their neutral hues and timeless designs.
Ready to Dazzle, Backed by Guarantee
Why wait for custom commissions when you can instantly elevate your home? Sage and Twine's Macrame Hat Hangers are ready to ship as soon as you click 'buy'. Plus, we back each purchase with a 100% satisfaction guarantee, making your shopping experience as seamless as possible.
Discover our diverse range of Beautifully designed Macrame Hat Holders in various sizes, handpicked for you with care and attention to detail.
Styling Tip to Amplify Your Space
Pair these luxurious hat hangers with Sage and Twine's Macrame Wall Hangings or Macrame Plant Hangers for an all-rounded aesthetic experience. Let your home be a canvas for your refined tastes.
Wrap Up: The Ultimate Statement Piece
Sage and Twine's Macrame Hat Hangers aren't just another accessory; they are the epitome of artful living and responsible choices. Don't just store your hats—display them. Make your selection today and redefine your space with understated opulence.